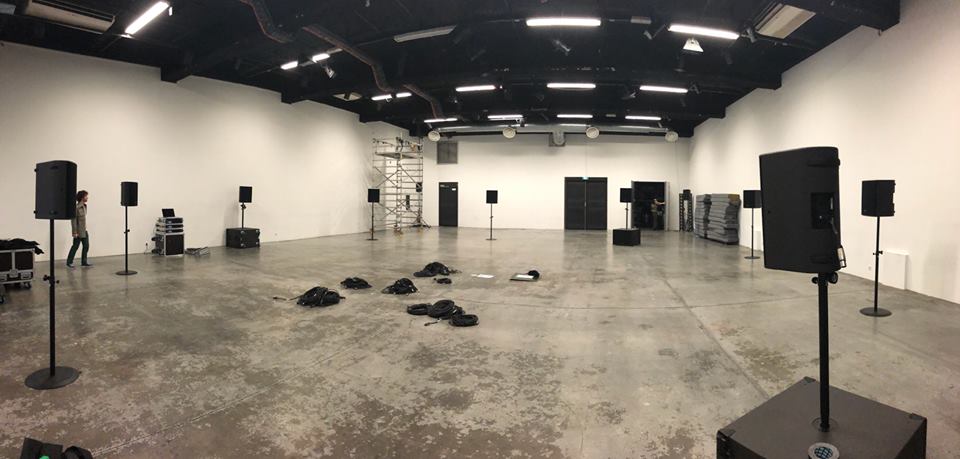 Live Méandres @ Le Générateur, Gentilly, FR. Sound system: 9.3 - HOA 2D - L-Acoustic.
Sound spatialization
1 - Ableton Live Audio 3D Workflow
2 - Immersive mixing, Architecture Venice Biennale
3 - Work on spatial morphologies, Hyperborée quatuor
4 - Les Sonifères Festival
5 - Conservatory thesis (in French) about sound spatialisation in electroacoustic music
---
1 - Ableton Live Audio 3D Workflow: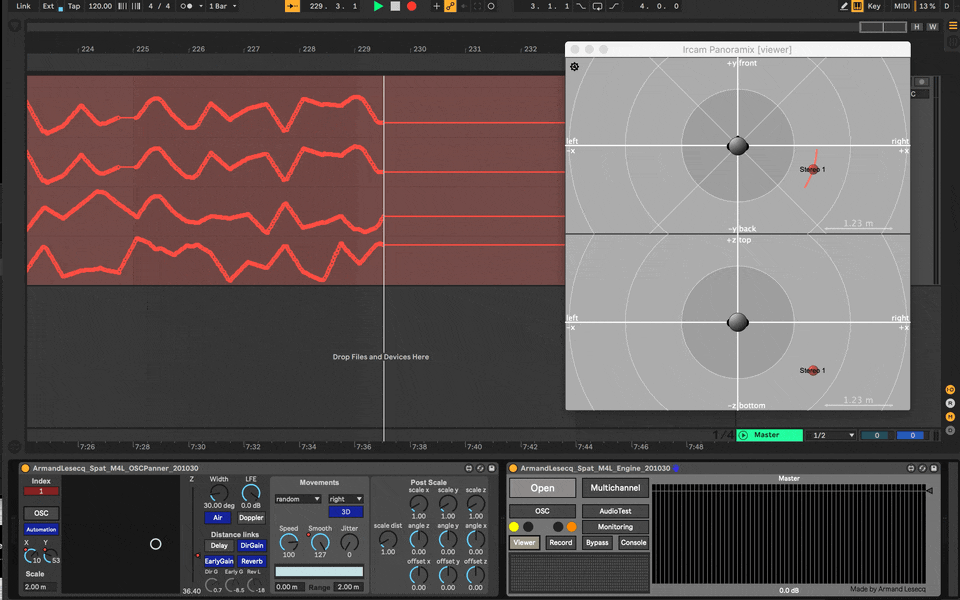 Spatial workflow in Ableton Live : A custom M4L Panner communicate with the sound spatialization engine. A random movement is generated and recorded as automation.
EN Audio 3D workflow integrated into Ableton Live.
It is composed of various Max for Live plug-in - panner/movement generator, Ircam Spat Engine, OSC toolkit and an iPad interface. It is possible to work on any kind of sound system - 2D, 3D, binaural - using the latest technologies developed by the institut - High Order Ambisonic (HOA), VBAP, DBAP, Wave Field Synthesis (WFS)...Each audio source is considered as a sound object which allowed to use multiple speaker setup dynamically. The tool is integrated into Ableton Live software and can be used during composition process, mix or live performances.
The complete spatialization toolkit is actually in beta. You can contact me for more details or to test the different tools:
Panner : Write and generate 2D and 3D trajectories - Random, circle, square, triangle with smooth and jitter parameters. A set of scale knobs and LFO can creates complex shapes. The plug-in can also receive the signal from iPad. Control of the perception parameters.

Engine : Sound Engine based on IRCAM Spat Panoramix. It can handle 2D, 3D and binaural format using various technics (WFS, HOA, VBAP, VBIP). Multiple sound format and speaker setup can be simultaneously processed. There is also tools to test the speaker setup, scale sources coordinates, In and Out audio limiter, etc...

BusControl : Control of the bus parameters - reverberation, level and specific control depending of the spatialization technic used.

MasterControl : Control of the master parameters and Coordinates scaling.

OSCrouter : Route and scale of the coordinates. It can be used to communicate all positions informations to another engine, audio server or software

Touch OSC iPad interface : The user can control position by hand or by using movement generators. Movements are sent to the engine or recorded as automation in the M4L panner.

Touch OSC M4L Converter - to manage the iPad's interface and generate automatic movements (random, circle, etc...).

IRCAM Spat Viewer : Part of the engine, visualisation of the spatial scene.

IRCAM Panoramix main window : Part of the engine, visualisation of the spatial scene, speaker setup, routing.
FR Conception d'un workflow audio 3d intégré dans le DAW Ableton Live.
Il est composé d'un ensemble de plug-in Max for Live - panner, générateur de mouvements, OSC toolkit, interface iPad ainsi qu'un moteur audio spat de l'IRCAM. Il est possible de gérer tout type de dispositif de diffusion (2D, 3D, binaural) en utilisant les procédés de mises en espaces développés par l'institut (ambisonie (HOA), VBAP, DBAP, WFS, etc...). Chaque source audio est considéré comme un objet sonore permettant l'utilisation de différents setup de diffusion dynamiquement. L'ensemble est intégré au sein du logiciel Ableton Live afin d'être manipulé en cours de phase de composition, en mix ou bien en concert.
Le spatialization toolkit est actuellement en beta. N'hésitez pas à me contacter pour en discuter ou pour tester les différents éléments.
---
2 - Immersive mixing, Architecture Venice Biennale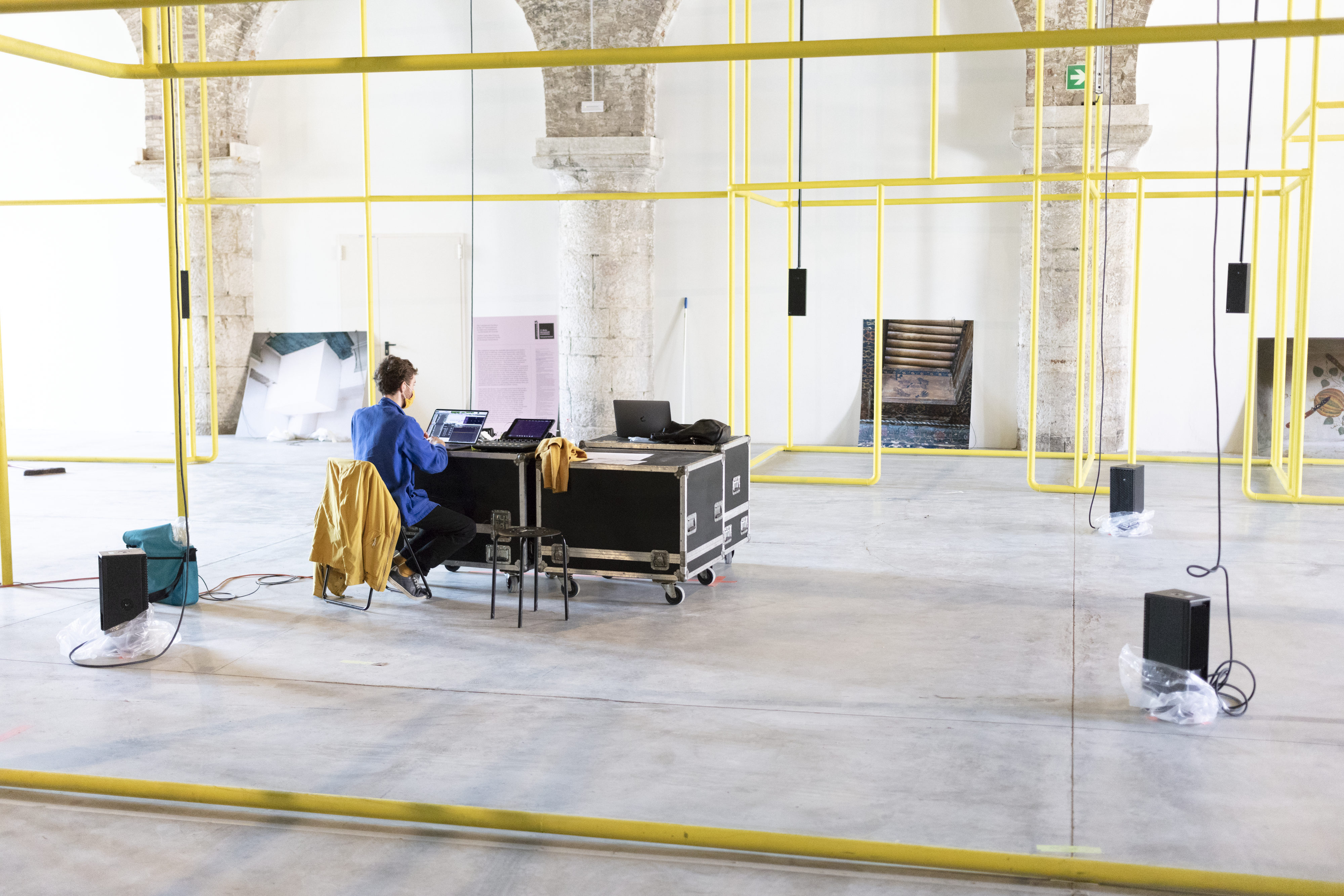 Mahalla, Uzbekistan Pavillon, Venice Architecture Biennale, 2021 © Gerda Studio
Spatial mixing, immersive sound system - HOA Ambisonic 3D audio, 32 loudspeaker, 12 hours.
Sound piece directed by Carlos Casas for the Uzbekistan Pavillon in the Venice Architecture Biennale 2021.
Sound mix in situ, at IRCAM and at Studio Des Sons Animées, FR.
---
3 - Work on spatial morphologies, Hyperborée quatuor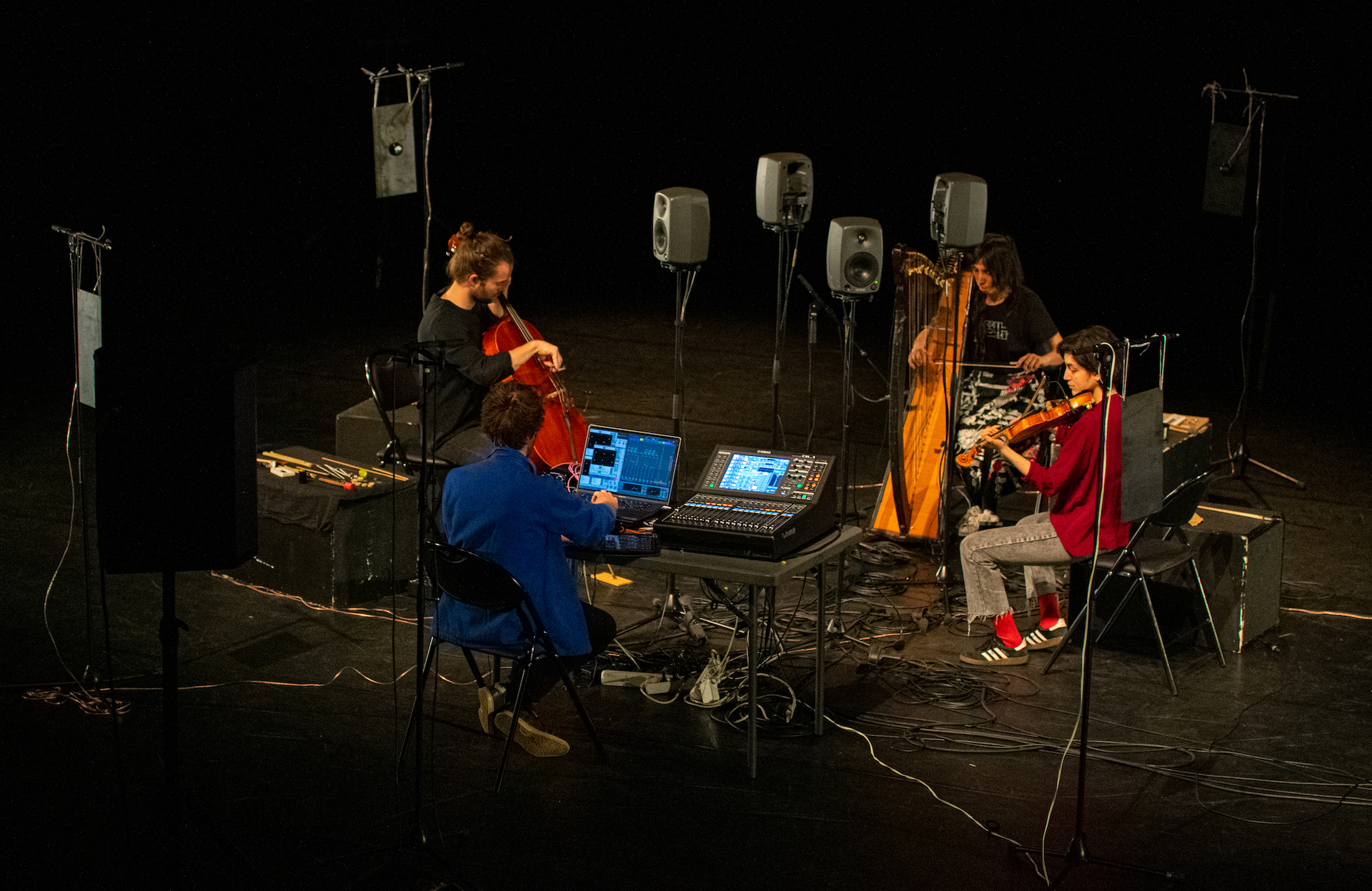 Hyperborée research residency at GMEA, Albi, FR, 2021
Work on spatial morphologies with the music bend Hyperborée. The final live setup is made of 3 loudspeakers in the center, 6 inside the audience and 4 around the audience. A live spatial instrument has been made using Ableton Live and Max.
---
4 - Les Sonifères Festival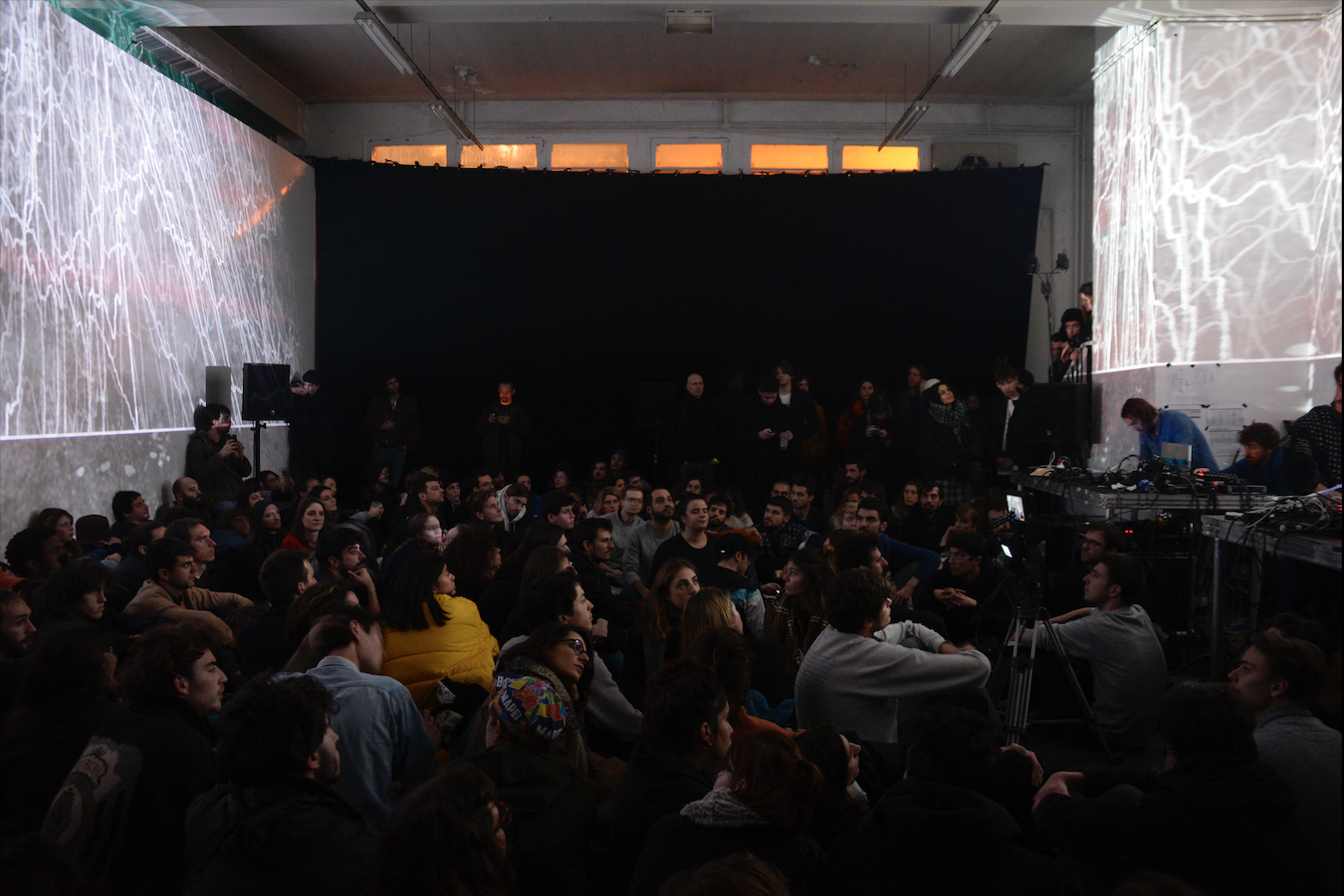 Les Sonifères Festival, Fantasia Nel Dessert, DOC!, Paris.
Co-organiser of "Les Sonifères Festival" in Paris. It is a two days festival inviting artists from different music fields: electroacoustic, electronic, jazz, improvised... All the artists are helped in the process of thinking their music in a spatial from for the multichannel (8.2) sound system.
---
5 - Conservatory thesis (in French) about the work on sound spatialisation in electroacoustic music
"Pour une écriture de l'espace en musique : Un outil ambisonique de mise en espace & de création de morphologies spatiales."
Mémoire de recherche sur l'espace comme dimension musicalement composable et le développement d'un outil de spatialisation Ambisonique d'ordre élevé (HOA - High Order Ambisonic). Travail accompagné de la composition acousmatique "Halocline" pour un dispositif en deux dimensions, HOA 3e ordre, 8 haut-parleurs en couronne.
Travail effectué dans le cadre d'un DEM (Diplôme d'Etudes Musicales) en composition électroacoustique au conservatoire de Pantin, 2017.
Classe de Marco Marini & Jonathan Prager.
Jury : Roland Cahen & Roger Cochini. Diplôme obtenu avec les félicitations du jury & prix SACEM.
"Je m'intéresse à la façon dont on peut composer l'espace, c'est-à-dire le penser, d'abord, et l'inscrire ensuite sur un support. En musique de support on parle de deux niveaux d'espaces : « l'espace interne » comme l'espace inscrit sur le support et « l'espace externe », perçu lors du concert, lié aux conditions d'écoute et non prévu ni composé par le compositeur. Dans ce mémoire je préférerai parler « d'espace composé », terme qui regroupe l'ensemble des choix effectués par le compositeur en termes d'espaces, notamment en termes de dispositif de projection sonore nécessaire à la restitution de l'oeuvre. J'associe espace interne et espace externe dans une même pensée de l'espace, dans laquelle le dispositif de restitution sonore participe à l'écriture. En m'intéressant aux espaces composés, je cherche une alternative aux outils de mise en espace qui agissent a posteriori du processus de composition et d'écriture.
Pour cela, je m'intéresse aux différentes recherches technologiques qui sont en cours à propos de l'espace en musique. Avec une démarche de compositeur concret, je cherche des outils qui permettent la fixation de l'ensemble des paramètres musicaux, en y incluant l'espace. Je m'intéresse donc aux outils qui permettent l'écriture de l'espace - dès la composition - et l'écriture avec l'espace - avec la création de morphologies spatiales (c'est-à-dire le comportement du son dans l'espace et son développement au cours du temps). Je me concentre en particulier sur l'usage des technologies ambisoniques d'ordres élevés (HOA – High Order Ambisonic). Ce sont des technologies de projection du son immersives, qui permettent de plonger l'auditeur dans une sphère sonore composable en trois dimensions et à 360°. Je m'intéresserai à leurs apports en termes de création sonore, d'écriture, et de transmission."
---